Professional electricians, utility workers and other tradespeople know the quality of Klein tools. When Klein announced its new impact sockets, we were immediately excited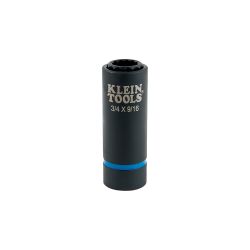 to hear about the time-saving, easy-to-use innovation of these new tools.
Klein has manufactured three new impact sockets. There are two new 2-in-1 impact sockets – a 12-point impact socket  and a 6-point impact socket – each with deep, coaxial spring-loaded hex sockets in one tool. Also, Klein now offers a new 4-in-1 square impact socket featuring a longer shaft that is ideal for use on long threaded bolts. All models offer hands-free adjustment between socket sizes, allowing you to work quickly and efficiently. Time is money, and these new sockets allow you to adjust socket sizes without removing your gloves and with practically half the tools you would normally carry to do pole work.
The Klein 2-in-1 impact sockets have a deep half-inch drive that is great for pole hardware. Klein's 12-point impact socket works with square fasteners and is easy to position. Klein's 6-point impact socket reduces the round-off on hex fasteners by better contacting the flat sides. Klein's 4-in-1 impact socket features 3 square socket sizes and 1 hex socket size. Visit JimSlimsTools.com to learn more about the specific sizes on these new Klein impact sockets. These are the perfect addition to your professional toolbox.
Always use the appropriate safety protection when operating tools and machinery. Protect yourself with our complete line of safety products. We offer fall protection, safety glasses, multiple hard hat styles and many more safety items.
We'd love to hear from you. Please leave a comment about your experience with the new Klein impact sockets, or ask us any question you may have about the item.