2400 series material lifts from Sumner Manufacturing are some of our most popular lifts because they are lightweight, compact and portable.
Model 2412 and model 2416 contractor lifts are an ideal choice for one or two man crews that have some heavy lifting to do.
The 2400 series lifts were designed with the residential HVAC contractors in mind.  Installing residential air conditioning can be a tough job. You can't do it right without a solid lift to lift and position the unit.  The Sumner 2400 series lifts are the best lifts to simplify this work since they are designed to go wherever your job takes you. They are portable and especially slim to fit through most doorways – great for residential work. The 2400 series lifts are also a popular choice for electrical contractors, industrial maintenance professionals, steel erectors, and facility management professionals.
The main reason the Sumner 2400 Series Material Lift is such a popular lift among
residential air conditioning contractors is how compact it is. The stowed size of  both the model 2412 and model 2416 contractor lift is less than 63" long x 27" wide x 23in deep,  so they will easily slide into the back of most pickup trucks, vans and SUVs. The roller wheels behind the winch make it easy for one person to lay the lift down on its back then lift and roll it into their vehicle.
Other popular features are:
Handle on the back of the mast: Use convenient handle for "hand truck" mobility and to position lift at point of use.
Winch: Coffee grinder style winch features auto-braking and detachable winch handles
8" non-marring rear wheels
Reversible Forks: Two plunger pins permit quick release of forks. Forks may be removed for storage or reversed for added height.
Double Row Casters: Four 3″ casters permit easy handling of heavy loads. Swivel

Sumner 2416 Material Lift with Outriggers

independently. Lockable to insure safety.  Allow for multi-directional positioning of the lift.

Inside-Mast Cable Feed: Cable feeds inside mast, removed from the operator for safety – similar to the 2000 and 2100 Series lifts.
The model 2416 includes the outriggers for better stability when lifting past 12'
Sumner offers some optional accessories that can help make the job easier and expand the applications of the 2400 series contractor lift.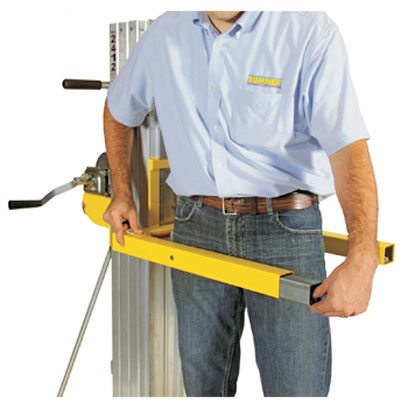 784695 Extension fork kit : With the push of a button, forks may be extended from 23.3″ to 29.8″.  When using the fork extensions the weight capacity reduces to 200 lb., as is clearly marked on the extended forks.  A second button returns the extension for storage inside forks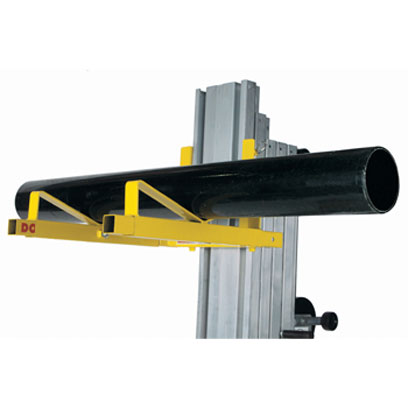 783705 Pipe Cradle: Great for air ducts or other HVAC applications.  Slides over forks.  (Packaged two per set).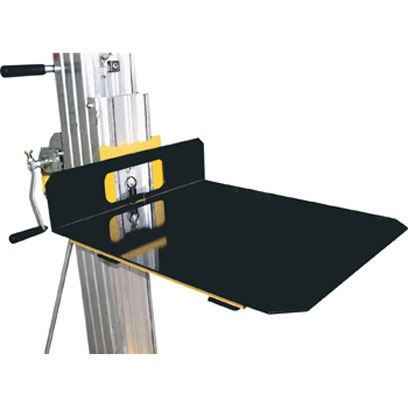 784320 Steel Tray: 24" x 28″ steel tray slides onto forks. Idea for lifting odd shapes, adds extra support.
Invest in your business and know you are prepared for any job with a Sumner 2400 series lift. Don't worry about waiting on extra help or the expense of renting equipment. Do what other construction professionals have done, and buy a Sumner 2400 Series Lift today from Jim and Slim's Tool Supply
Through-out the month of March 2018 we are offering an additional 16% off – use coupon code SWEET16 at checkout. Plus fast FREE shipping!
Always use the appropriate safety protection when operating tools and machinery. Protect yourself with our complete line of safety products. We offer fall protection, safety glasses, multiple hard hat styles and many more safety items.