ICS developed the concrete cutting chainsaw over 20 years ago to solve the problem of cutting holes and penetrations through concrete, brick, granite, reinforced concrete, and cinder blocks.  A concrete chainsaw eliminates the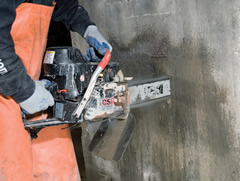 problem of over cutting required with a traditional gas cut-off saw, and there is no mess from using a chipping hammer to create a penetration through the concrete.
When ICS introduced the multipurpose 680ES gas powered concrete chainsaw it changed everything.  It made it more affordable, more practical, and a necessity for your tool box.  The 680ES concrete saw packages are available with an 12in or 14in guide bar that allow you to truly cut 12in or 14in deep.  Each 680ES saw package comes complete with the 680ES power head, diamond chain with matching bar, and all the necessary accessories to get up and running right away.
The 680ES concrete chainsaw has applications for most trade professionals specializing in new construction and restorations.
Applications:
New Duct work
New Piping
New doors and window
Catch basin penetrations
Concrete pipe
Landscape materials
Holes as small as 4in x 4in
Trades:
Mechanical and Plumbing Contractors
Utility Contractors
Municipalities
General Contractors
Landscapers
Restoration Contractors
As you can see this is a tool that should be in everyone's tool box.
The saw is powered by an 80cc 5hp 2 cycle gas engine that that is reliable and economical to run.
You can rely on an ICS Gas Saw to start up no matter the weather conditions. It comes with a Polyester air filter designed specifically for wet cutting. The multi-function lever controls choke, throttle advance, run and stop modes, making it simple to operate.
680ES diamond chains for concrete
The 680ES saw packages include the standard TwinMax diamond chain that are suitable for a wide range of general purpose concrete and masonry applications.  For applications where there may be more steel reinforcing or a hard aggregate will be encountered, the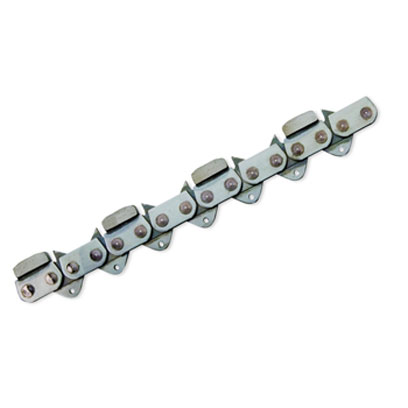 best choice is the TwinMax Plus diamond chain.  When the material being cut is more abrasive like sandstone or brick the TwinMax Abrasive chain is a good option.  All the concrete cutting diamond chains we offer from ICS offers for the 680ES concrete chainsaw use their patented SealPRO Anti-Stretch technology that increases the life of the chains.
Tips for Smooth and Trouble-Free Cutting
Gently touch the surface you've marked, then lean the ICS Gas Saw straight into that surface. You won't have kickback like a wood-cutting saw, so make sure you make a straight plunge.  When you crank the saw, make sure to give it a few minutes to warm up. ICS Gas Saws work best at full throttle when cutting, so don't worry about holding back the pressure.  The more you use the ICS Gas Saw, you will find the "sweet spot" between pushing too hard or not hard enough. When you find that sweet spot, maintain that level of RPMs on the ICS Gas Saw throughout your cut. Keeping consistent pressure on the saw while the chain is cutting helps extend the life of the TwinMax diamond chain. It's easy to check for proper tension on ICS Gas Saws equipped with TwinMax diamond chains. The chain should not be so tight you can't pull it by hand. And it should not be so loose that it hangs down showing the drive links below the bar. The correct tension for ICS Gas Saws outfitted with Diamond Chains is when you can use your hand and easily pull the chain around the bar. Keeping the proper tension will ensure a long life for you ICS Gas Saw and Diamond Chains. Eventually, the chain will loosen, but it can easily be tightened, preserving the quality of your work and equipment. And always remember to wear the appropriate safe protection including head, eye protection, hand protection and face protection.
Check out the video from ICS below for more tips on using the ICS Concrete Chainsaw.
See the available 680ES saw packages and accessories below
The Equipment Options
The Deal:
While supplies last we are including a second diamond chain in each saw package and for the month of February 2018 we are offering a $150 off a 680ES complete saw package with coupon code SAVE150ICS. Plus Free shipping!